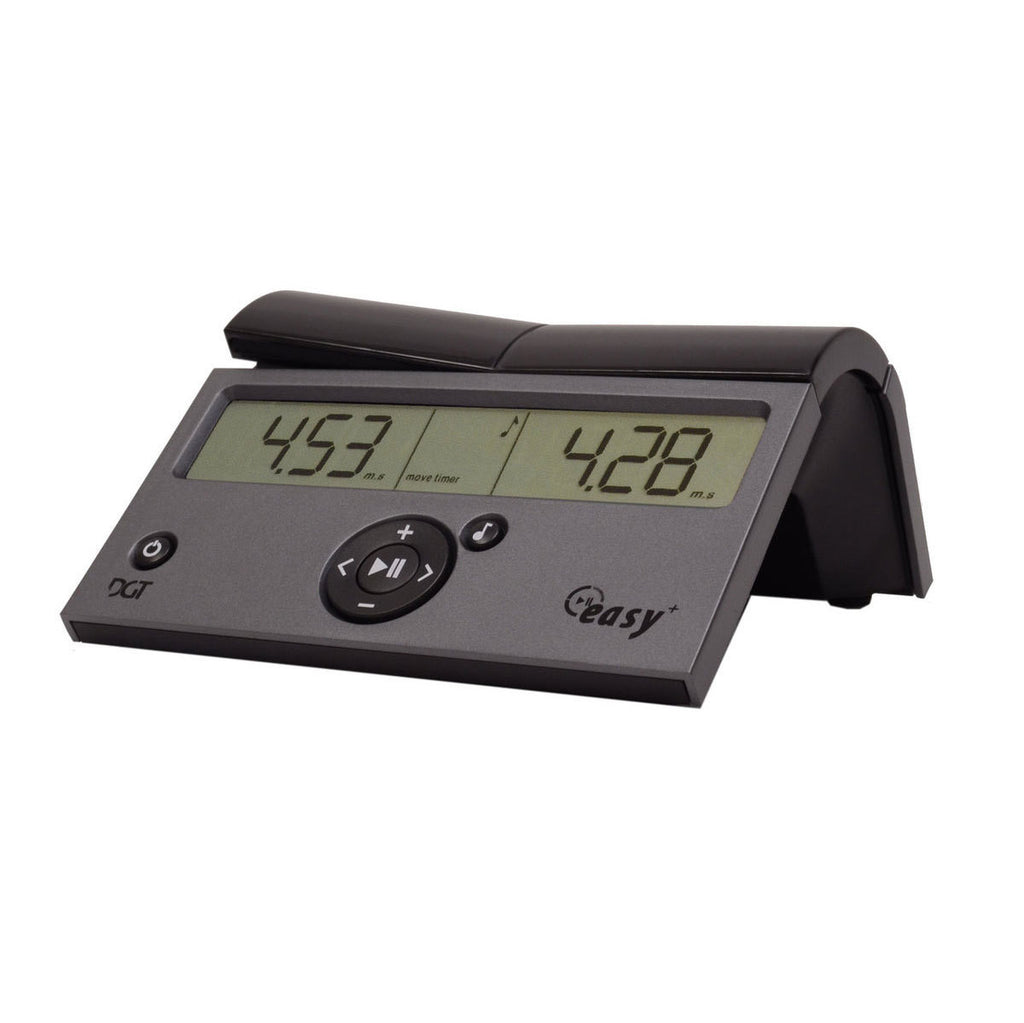 ---
New & Improved 2014 Version. Includes a larger display and buttons, count-down and count-up, new move & save options, and bonus & delay options.

The DGT Easy Plus is the choice of former world chess champion Vladimir Kramnik. It combines high quality with absolute simplicity and a sturdy and elegant design.

Easy to program and easy to use, it features handy front buttons, game timer count-up option, simple one-touch reset, large and clear display, low battery indicator, optional buzzer. Individual time settings possible for each player. The Easy Plus comes in a nice gift box. Sharp pricing competes with analog clocks.
Easy to operate
All basic functions
One-button game restart
Attractive and robust Gift Box
2 AA batteries required (not included) Under normal use, batteries should last approximately 2 years.
DGT Easy Game Timer PLUS Feature List:

Ergonomic
Intuitive operation
Large moving lever for changing turns
Large 13mm. (approximately one-half inch) time display
Single front-button game reset
Last used settings saved when switched off
Distinctive "smokey" black color
Functions
Programmable delay time for every move (with visible delay time count)
Programmable bonus time for every move (with visible bonus time)
Delay and Bonus programmable up to 9 minutes 59 seconds
Game Timer (Count down)
Up to 9 hrs 59 minutes for entire game (Chess, Checkers, Draughts, Go, Scrabble, etc.)
Including exceed time display
Different start time for each player possible
Second-accurate programming up to 20 seconds, minute-accurate programming above 20 minutes
Upcounting Game Timer
Starts from Zero time
Move Timer
Programmed time for every move separately (Rummikub, Scrabble) (different move time for each players possible)
Complete
Flag symbol for player that reaches zero time first
Time correction during a game
Seconds counting visible below 20 minutes
Warning sound on last 5 seconds
Sound function can be switched off and on during the game
5 languages user manual: English, German, French, Dutch, Russian
Durable
Attractive Gift Box
2-year warranty
Size: Approximately 5.7" wide x 5.3"deep x 2.8" high Clock Dimensions: 5.7"x 5.3" x 2.8"
Clock Batteries: 2 x AA
Batteries included?: No
Clock Manufacturer: DGT
Clock Material: Plastic
Clock Type: Digital
Delay feature?: Yes
---
Share this Product
---
More from this collection