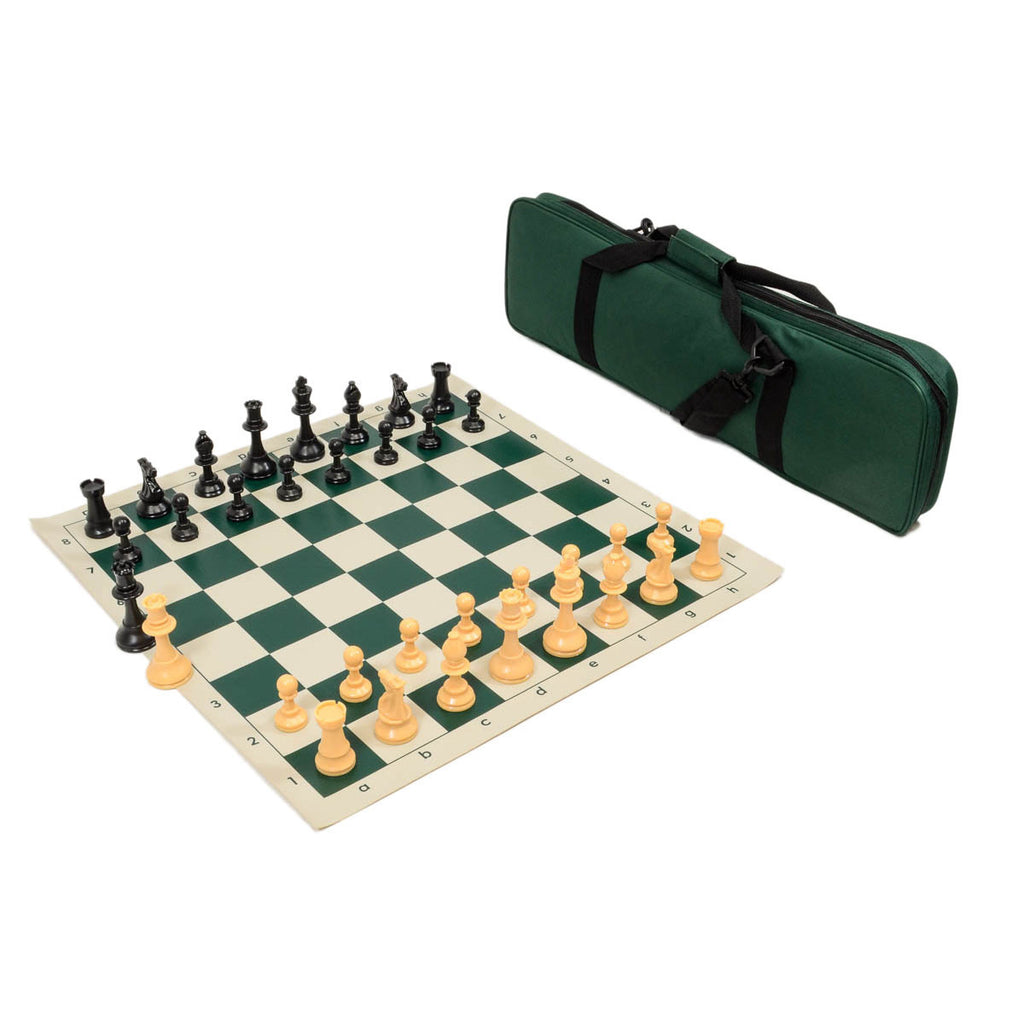 Quality Tournament Chess Set Combo - Green
---
The Quality Tournament Chess Set Combo is our entry level tournament combo set that includes our Quality Club Chess Pieces, Quality Vinyl Chessboard (20"), and Carryall Tournament Chess Bag.
These chess sets are great for those who want a basic tournament bag and set. Each set comes with one set of 32 pieces, one board, and one bag (colors refer to board and matching bag). All equipment meets chess tournament standards.

Quality Chess Pieces:
Complete set of 32 chess pieces (plus two extra queens)
King 3 3/4" tall, 1 1/2" base, and 29g
Solid plastic w/ matte finish for no glare
Heavy feel w/ felt paper base
Quality Vinyl Chessboard:
Chessboard measures 20" by 20" with 2 1/4" squares
Clear and legible algebraic notation
Note: The brown squares on the brown boards are very dark brown.
Carryall Tournament Chess Bag:
24" x 9" chess bag holds everything!
9" x 5" x 2.5" padded clock pouch to hold any clock
Shoulder strap for easy transportation
Sturdy handles and zipper
Padded for protection
Lifetime guarantee
When choosing your colors below, the color refers to the color of the dark squares on the board as well as the matching color of the bag. If you prefer to create your color combination, we invite you to purchase the pieces, boards, and bags individually. The camo brown combo ships with a green board and camo bag, and the camo pink combo ships with a pink board and pink camo bag. King Height: 3¾"
King Base: 1½"
King Weight: 29g
Weighted?: No
Piece Material: Plastic
Extra Queens?: Yes
Board Size: 20" x 20"
Square Size: 2¼" x 2¼"
Board Material: Vinyl
Bag Size: 24" x 7" x 2"
Bag Material: Nylon
---
Share this Product
---
More from this collection